2018 Cinsaut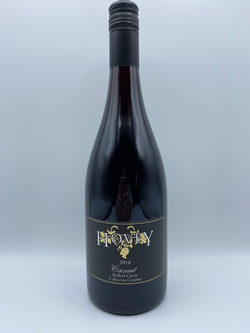 The 2018 Cinsault is a beautiful light-bodied red wine. It is great for summer sippin, and has enough body to make it through the winter. Serve slightly chilled or at room temperature depending on the weather.
Wine Specs
Vineyard Designation
Rolleri
Wine Profile
Winemaker Notes
This is our 5th successive vintage of Cinsaut as a single varietal. Typically used as a blending grape, we found it so enticing on its own back in 2013 that we decided to bottle it as such. This latest version starts with a nose of roses and cranberries, then delivers dark chocolate, vanilla and white pepper on the palate. 13.7%.
Food Pairing Notes
Will pair with a wide variety of foods, including grilled meat and ravioli.
Product Reviews
Janice M. Robbins
(Nov 10, 2020 at 9:27 PM)
This is an "easy" wine to enjoy, either room temp or slightly chilled. It's lighter in color and body, smooth in flavor, "delicious" when chilled during warm weather. I continue to enjoy Cinsaut, as do my neighbors, who were introduced to it this summer during the Hovey Virtual tasting series. I couldn't believe chilling a red wine, but it really works with Cinsaut.