2018 Syrah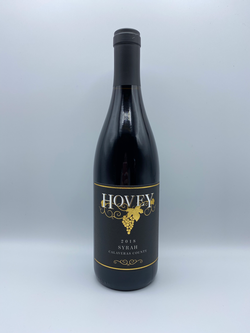 This Syrah is a rich, full-bodied red wine with medium tannins and acidity. Fun Fact: Syrah is also called Shiraz by our Australian friends. Enjoy with grilled meat, tandoori chicken or a luscious platter of charcuterie.
Wine Specs
Vineyard Designation
Cavern Vineyards
Harvest Date
Oct 10, 2018
Bottling Date
August 2020
Wine Profile
Tasting Notes
The fruit flavors from blackberry, blueberry and dried cranberry combine with hints of black cardamom make this wine ideal for pairing with big bold flavors.
Vineyard Notes
This bold red historically comes from the Rhone Valley of France, and is one of the most planted varietals in Australia. Calaveras County has similar growing climates to Australia which is no wonder why it loves our hot, dry climate.
Winemaker Notes
A full-bodied red wine with just the right amount of tannins and acidity to give this wine a big punch of flavor.
Food Pairing Notes
Pair this bold wine with meaty, spicy dishes like Tandoori BBQ or Indian Shwarma...or anything cooked "on the barbie" as our Aussie friends like to say.