2018 Cinsaut with Ancho Chile and Coffee Flank Steak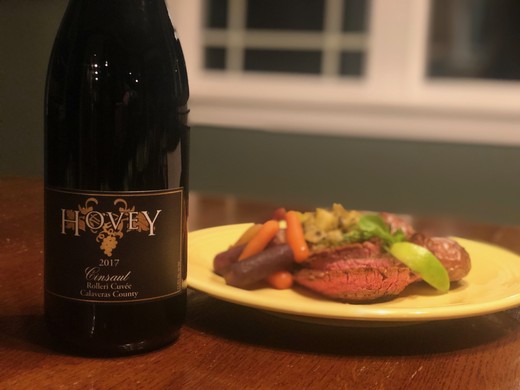 Recipe Date:
January 16, 2020
Measurements:
Imperial (US)
Our 2017 Cinsaut is a perfect complement to the smokey flavor of the ancho chile and coffee rub used in this easy and delicious recipe.
Ingredients
2 tsps Ground coffee
1 tbsp Ancho chili powder
1 tbsp Brown sugar
1 tbsp Salt
Directions
Trim steak and remove excess fat
Heat grill to medium-high (~400o)
Rub generously with the spice packet. Let sit for 30 minutes to several hours covered in the refrigerator.
Grill steak, turning once for 8-10 minutes total depending on the thickness of the steak.
Remove steak, tent with foil and let rest 5 minutes.
Serving Suggestions
Serve sliced steak with roasted rosemary new potatoes and candied carrots, or with a colorful spinach salad and quinoa.
Wine Pairing
Pour yourself a glass of 2017 Hovey Cinsaut and enjoy!