2017 Zinfandel and Brownies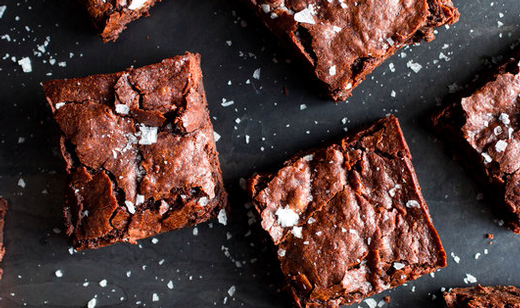 Recipe Date:
April 30, 2020
Measurements:
Imperial (US)
Crispy edges and a fudgey middle is what makes brownies so special. Melissa Clark at the New York Times has taken a new twist on an old standard. Unsweetened chocolate, dark brown sugar, olive oil and flaky salt combine in a way that will have you coming back for more...more brownies and Zinfandel!
Ingredients
6 tbsps mild extra virgin olive oil
1 cup all-purpose flour
3/4 tsp kosher salt
1/4 tsp baking powder
1/4 cup hi-quality cocoa powder
1/4 cup boiling water
3 ozs melted unsweetened chocolate
1 large egg (room temperature)
1 tbsp vanilla extract
3/4 cup packed dark brown sugar
1/3 cup granulated sugar
1/2 cup chocolate chips
Flaky sea salt (as needed)
Directions
Heat oven to 350 degrees F. Grease an 8x8 inch baking dish with some olive oil. Line the pan with parchment paper leaving about 2inches overhanging the sides so you can easily remove the brownies when they are cooked.
In a medium bowl, whisk together flour, salt and baking powder.
In a large bowl, whisk together cocoa powder and bioling water until smooth. Whish in 6 tablespoons olive oil, melted chocolate, egg and vanilla.
Add the brown and granulated sugars to the wet ingredients and mix well. Fold in the flour mixture followed by the chocolate chips.
Pour into the prepared pan, and bak until set and firm to the touch, about 20-25 minutes.
Immediately sprinkle brownies with flaky salt while still warm, and let cool.
Cut into 16 squares and serve with Hovey 2017 Zinfandel.