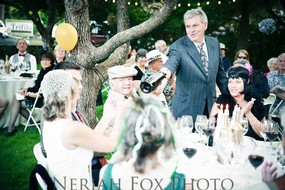 Linger, Longer.
You are invited to sample the nationally and internationally-acclaimed wines of Chuck Hovey, a well-respected winemaker in the Sierra Foothill region for more than 30 years.
Chuck's life dream is evident in each bottle, bringing the most sought-after hand-picked vineyards, premier varietals, Mediterranean-style terroir, and state-of-the-art winemaking techniques to present an unequaled taste experience.
Hovey Winery is a small family-run business operating out of Murphys, situated in the heart of California's Gold Country. The first wine was introduced in 2008, and in 2009 a total of 600 cases of Chardonnay, Petite Sirah/Syrah, Barbera, and Chuck's signature Tempranillo were produced. Within two years of its birth, Hovey Winery continues to grow and flourish with a planned production of 2,500 cases in 2013.
We welcome you into the family and to savor the Sierra in every sip.