Events
Winery Events
October 2023
30th Annual Grape Stomp and Gold Rush Street Fair
Sat, Oct 7, 2023
Venue:
Murphys Community Park, Main St. and Hovey Wine Garden
Join the fun and festivities of the 30th Annual Grape Stomp and Gold Rush Street Fair in downtown Murphys.
Enjoy wine by the glass, or by the bottle. Wine tastings will be available for wine club members.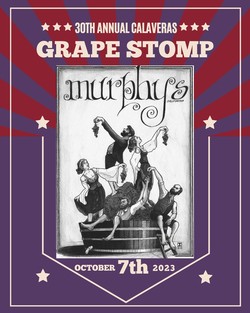 November 2023
2023 Dia de Los Muertos
11:00 AM to 5:00 AM
Sat, Nov 4, 2023
Venue:
350 Main St, Murphys, CA 95247
Another wonderful Murphys tradition, Day of the Dead is celebrated throughout town with businesses displaying altars celebrating the lives of those who have passed on but are with us in heart and spirit. There is much to do in the Community Park on Algiers St. with a curated group of artisan vendors, face painting, and a community ofrenda.
Join us as we toast those who have passed. As always, Hovey WInery will have an ofrenda as well. All are welcome!
December 2023
2023 Murphys Open House
4:00 PM to 8:00 PM
Fri, Dec 1, 2023
Venue:
350 Main St, Murphys, CA 95247
This is THE kick off event of the Holiday Season! Make a reservation for the best seats in town. Watch the parade, drink some wine, enjoy authentic Posole we sell as a fundraiser for the local schools.
Member Only Events
December 2023