The story of Hovey Winery is one of Community. Hovey Winery was founded in 2008 by Chuck Hovey, a long time resident of Calaveras County, a fixture in our small town of Murphys, California, and a wine industry pioneer. Chuck was the "go to guy" in Murphys; he knew everyone, worked with well-known wineries and winemakers, and mentored some of the best winemakers in Murphys.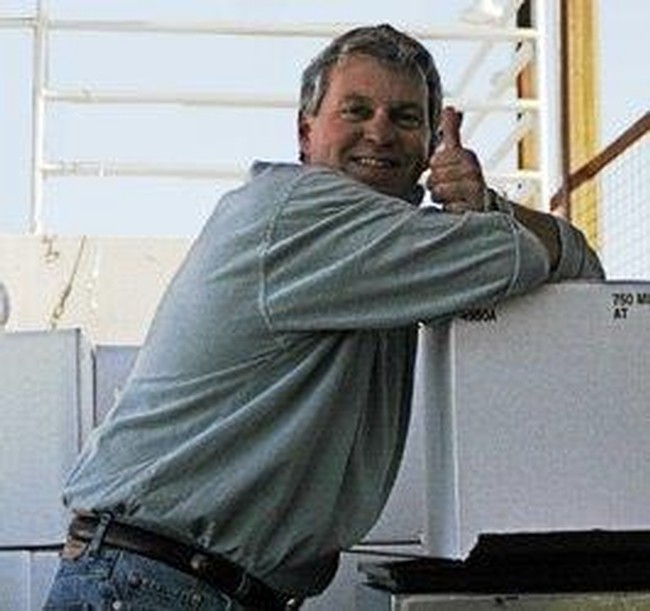 Chuck Hovey at the Gianelli Winery
The Community gathered around Chuck in 2015 when he suffered a stroke. People came from all over to participate in "Cheers for Chuck", a fundraiser to help with his medical expenses. At the same time, Chuck's neighbor and longtime friend Susan (who you are likely to see in the Tasting Room on any given Saturday) gathered a group of friends together and pitched the idea of 'buying into" the winery as a way of helping Chuck. We were all in; the Partners made a commitment to manage the business and keep things running, giving Chuck the support he needed. One of the winemakers Chuck mentored was Scott Klann of Newsome-Harlow Wines in Murphys. Scott jumped on board while Chuck was recovering and made sure we didn't miss a beat. He continues to make Hovey Wine in Chuck's unique style, as only he can.
In 2019, Chuck passed away. More than 150 family, friends, and colleagues gathered on the Hovey Lawn to celebrate the life (and wine) of this truly remarkable winemaker and great guy. He is missed by everyone who knew him, all the young winemakers he mentored over the years, and anyone who was ever fortunate enough to enjoy his wine.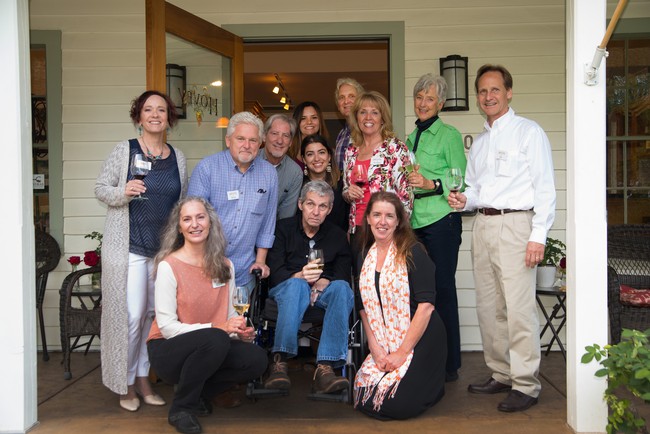 Chuck Hovey and the original group of Partners, 2016
The Partners stepped into the role of winery owners with energy and enthusiasm, determined to keep Chuck's vision alive. Each of us has our area of expertise, so we divide and conquer, and enjoy the "fruits of our labor", so to speak. The idea of Community is the common thread that weaves our story together. The idea of locally grown, produced and bottled wine from Calaveras County is the very heart of our business. Our fruit comes primarily from Calaveras County from many of the vineyards that Chuck knew all too well. Our wine is produced in downtown Murphys, just a short walk from our Tasting Room on Main Street. We use a mobile bottling line so we can participate in "bottling days" several times each year.
When you visit Hovey Winery, you're getting a true Calaveras County experience. Our staff is from here. Our grapes are grown here. We live, work and drink a lot of wine here. You might see Rick driving around in his 1960s flat bed Ford pickup delivering wine to the Tasting Room. You may see Pete & Susan walking their dog Brodie up on the fire break overlooking downtown Murphys. Sally (one of our amazing Tasting Room Associates who grew up in Murphys) can even tell you who is driving down Main Street by the sound of their truck.
Olivia, Sally and Sonya on the lawn.
The events of 2020 definitely tested our resolve, but we figured it out, learning a lot in the process. We embraced our lawn area as our primary Tasting Room and were able to safely serve more people, giving them an amazing wine tasting experience that we couldn't have done inside our traditional Tasting Room. We created a weekly virtual tasting called "Wine@5" that Club members, Hovey fans, and anyone on FaceBook can enjoy. As online orders and shipping have become the norm, we've become really good pals with our UPS team.
Natasha, Taryn, Laura and Rick packing up a Wine Club shipment.
We look forward to continuing to build community around our Wine Club, providing a way for members to learn, experience and enjoy Hovey Wine. We can't wait to get back to hosting fun, unique events like Wine Blending Workshops, Sunset Dinners and Release Parties. Our plan is to continue to be the best tasting room on Main Street in Murphys. We hope you will join us and let us know how we're doing.