2016 Isabel Barbera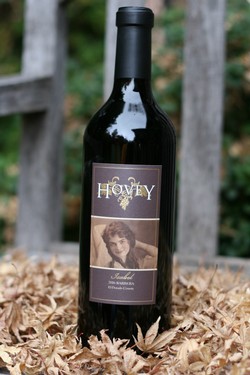 The 2016 Isabel Reserve Barbera is loaded with the dried cherry flavors that make this variety a favorite in Piedmont and now the Sierra Foothills. Impactful from the very first sip with a long insistent finish, it partners beautifully with spicy pasta dishes.
Wine Specs
Vineyard Designation
Walker Vineyard
Bottling Date
August 24, 2018
Wine Profile
Tasting Notes
Barbera as a varietal is known for its lush fruity flavors. Our Isabel Barbera doesn't disappoint with notes of dried cherry, black currants and a hint of ripe berries.
Vineyard Notes
This wine hails from the Walker Vineyard in El Dorado County. Lloyd Walker and his daughter Ann Johnson farm Barbera on a windy site off the Consumnes River canyon. Huge daily temperature swings provide a long hang time for great development in the grapes.
Winemaker Notes
In 2016, our harvest from the Walker Vineyard was especially good. So good in fact that we decided to use this fruit to create our first Isabel Barbera, the brand reserved for our flagship wines. This wine does not disappoint. It is everything a Barbera should be an then some.
Food Pairing Notes
We suggest pairing this luscious Barbera with a wide range of spicy foods - anything from spicy marinara sauce to enchiladas with a chili rojo sauce.
Product Reviews
Lynn Bradshaw
(Mar 23, 2019 at 9:16 AM)
This is definitely one of the best Barbera wines I have had.
James Byers
(Mar 31, 2019 at 10:35 AM)
I'm not a big Barbera fan, but I am a fan of this one! Excellent wine and one I always have on hand.
Jim Finley
(Dec 13, 2019 at 5:27 AM)
First time ordering a bottle online and it was well worth it. Decanted it for an hour because, why not? It was brilliant, served it with a spicy pasta dish and the guests raved. Wonderful wine all around.