2017 Chardonnay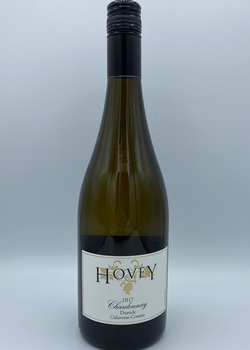 Club Member Case Special: Buy 12 bottles and Save 35% plus $10 Shipping in CA.
Retail Case Special: Buy 12 bottles and Save 20% plus $10 Shipping in CA.
Gold Medal Winner in the 2020 Amador County Fair
Duende is a Spanish term for which there is no literal translation. Generally speaking, it means a mischievous spirit, which is an apt description for our Duende Chardonnay. The fruit comes to us from both the Chatom and Rorick vineyards in Calaveras County. Oak barrels deliver subtle, sometimes spicy flavors with a more silky texture.
Wine Specs
Vineyard Designation
Shaw Ranch and Chatom Vineyards
Wine Profile
Tasting Notes
Light gold in color, the nose exhibits toasted vanilla with a hint of pineapple, leading to balanced flavors including pear, blanched almonds and honeysuckle.
Vineyard Notes
Blend of fruit from two classic Calaveras vineyards: Shaw Ranch's Dijon clone brings clean lofty acidity while Chatom's grapes contribuite lush tropical flavors.
Winemaker Notes
The wine is barrel fermented in 1 year, 2 year and 3 year French Oak barrels to impart more subtle flavors and a silky texture on the finish.
Food Pairing Notes
Pair this wine with mild, subtle foods that are not too spicy, not too pungent and not too acidic. Try any type of shellfish, simply seasoned chicken or pork dishes, or a creamy sauce-based dish like Fettuccine Alfredo.
Product Reviews
Ron Ferrari
(Apr 7, 2020 at 9:50 AM)
Love the Chardonnay, great everyday drinking wine
Lisa Griffin
(Apr 14, 2020 at 8:13 AM)
Great smooth everyday drinking wine.
Kathy LeBleu
(Jul 26, 2020 at 11:26 AM)
Beautifully balanced flavor. Smooth and light, my favorite Chardonnay!
Peete W Baer
(Dec 28, 2020 at 11:12 AM)
Somewhere Chuck is smiling. It's the old Stevenot Chard, adapted to the Hovey Vineyards and the year. I consider that high praise.