2017 Petite Sirah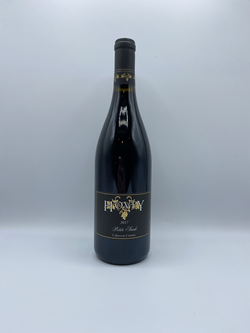 Our 2017 Petite Sirah is a seriously big, bold red wine with higher tannins and slightly lower acidity making is nice and dry. Elegant and sophisticated today, it will only get better with age (don't we all). From Dragone Ranch in Calaveras County, our 2017 delivers deep rich flavors and aromas of dark chocolate, dark berries (think blackberries and cherries) with a hint of spice. This wine is lightly filtered, and sediment in the bottle is a normal. For the best experience, we suggest leaving the bottle upright for 12-24 hours, then decanting 20-30 minutes before enjoying.
Wine Specs
Vineyard Designation
Dragone Ranch
Wine Profile
Tasting Notes
Our 2017 Petite Sirah has a rich deep color with full-bodied flavors of dark chocolate, dark berries, and black pepper. We suggest serving at 65F and decanting for a few hours to let the wine evolve.
Vineyard Notes
From the Dragone Ranch in Calaveras County, our Petite Sirah has the best of what makes Calaveras County a great wine growing region - lots of sun, just enough water and unique soil composition.
Winemaker Notes
Little known fact...Petite Sirah is an exceptionally rare grape with less than 10,000 planted acres worldwide, growing mainly in California. As one of the deepest and opaque red wines, it is higher in antioxidants than most other red wines. Another good reason to enjoy a glass of Petite Sirah!
Food Pairing Notes
The richness of this wine goes well with curries or meaty dishes like grilled beef or sausages, lasagna and other rich spicy dishes.
Product Reviews