2017 Tempranillo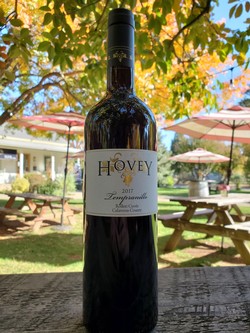 Wine Specs
Vineyard Designation
Rolleri Vineyard
Bottling Date
March 28, 2019
Wine Profile
Vineyard Notes
Rolleri Vineyard, Angels Camp
Winemaker Notes
From Rolleri Vineyard on Murphys Grade Road, our 2017 vintage offers aromas of dark chocolate, baked cherries and coffee bean on the nose. On your palate, this classic Ribera del Duero version presents blueberries along with and dark chocolate, finishing with soft, light tannins. Fully ready to drink now, this vintage will improve for at least five years. 14.8%. 299 cases produced. Pairs well with virtually any food, especially a summer BBQ.
Product Reviews
Linda Burns
(Feb 16, 2020 at 8:57 AM)
You Recommend this wine for a Crab Cioppino event that we went to and it was great.
Debbie E Murillo
(Oct 5, 2020 at 11:59 AM)
My husband and I have enjoyed this wine selection for several years. It pairs nicely with a a steak.
Ruth Bott
(Nov 16, 2020 at 11:04 AM)
This Tempranillo is as good as the Spanish ones!!!
Peete W Baer
(Nov 17, 2020 at 12:59 PM)
There are way too many American Tempranillos. Hovey's is by far the best.
Bob Duffy
(Jan 18, 2021 at 1:43 PM)
We had this Tempranillo for our special Holiday events and it was terrific. It went will with multiple different meals.