2018 C2 White Blend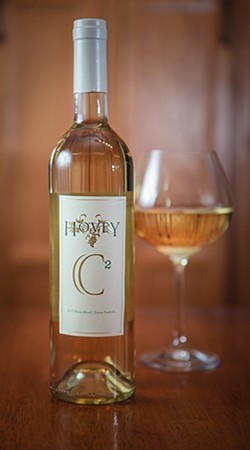 The C2 brand is our nod to Albert Michelson - the 1907 Noble award-winning physicist known for his work on measuring the speed of light (he is the "C2" in Einstein's equation E=MC2). That said, we like to keep our blend unique from year to year. We focus on Mediterranean varietals with our 2018 blend using Albarino (50%), Viognier (40%) and Chardonnay (10%). . The result is a refreshing, dry white that is goes down easy on a hot summer afternoon.
Wine Specs
Bottling Date
March 28, 2019
Wine Profile
Tasting Notes
Pale yellow in color. On the nose you'll sense pineapple and mango. On the palate: pineapple with crisp green apple and lemon grass. A lingering finish with soft mouth feel.
Food Pairing Notes
The clean, crisp white pairs well with grilled salmon, butter soaked crab or camembert cheese.
Product Reviews
Maureen Haesloop
(Sep 8, 2019 at 8:31 AM)
Hovey C2 is a wonderful White Wine Blend. It's especially refreshing as a summer spirit. I come from the Bay Area, to enjoy a picnic lunch and a bottle of C2 to accompany it, in Hovey's lovely garden. And of course, I take some home for future enjoyment. Thanks for asking. Maureen- Albany, CA
Lisa
(Apr 20, 2020 at 8:14 AM)
Another perfect blend for a day out boating! Or a lovely summer night out on the deck. I hate sharing it, not gonna lie.
Laura Parker
(May 27, 2020 at 8:12 PM)
The perfect refreshing white wine for warm summer evenings.