2018 Chardonnay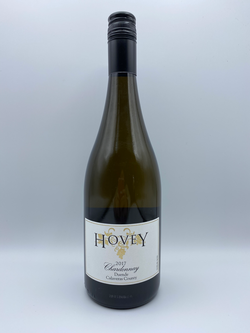 Our Duende Chardonnay comes to us from both the Dragone (40%) and Chatom (60%) vineyards in Calaveras County. in 2018, we consolidated from two Chardonnay varietals. The goal is to integrate what we loved about both our varietals into a single bottle. Or 2018 Chardonnay does just that. We have built on our crisp, clean style and added just enough malolactic fermentation to soften the wine and give it a lovely smooth finish. The oak barrels deliver subtle, sometimes spicy flavors and contribute to the lovely texture of this vintage.
Why do we call it "Duende"? Duende is a Spanish term for which there is no literal translation. Generally speaking, it means a mischievous spirit, which is an apt description for this delicious Chardonnay.
Wine Specs
Vineyard Designation
Dragone and Chatom Vineyards
Aging
12 months in neutral oak
Wine Profile
Tasting Notes
This wine has aromas of toasted vanilla with a hint of pineapple. Your first sip might remind you of pears. As you continue to enjoy a glass, you might notice some honeysuckle or almonds. The soft, smooth texture had a lovely finish and will leave you reaching for another glass.
Vineyard Notes
Blend of fruit from two classic Calaveras vineyards: The Dijon clone brings clean acidity while Chatom's fruit contribute lush tropical flavors.
Winemaker Notes
Light gold in color, this wine gets its structure from oak barrels where it rested for about a year before being bottled.
Food Pairing Notes
Pair this wine with mild, subtler foods like shellfish, roast chicken or pork dishes, or a creamy sauce-based dish like Fettuccine Alfredo.
Product Reviews
Debbie Donaldson
(Aug 20, 2021 at 1:19 PM)
A little lighter than I was remembering from past vintages but once I sipped it a few times it was delicious! Fruit and a little bit of vanilla, my favorite combo for a Chardonnay. And nicely priced. Affordable yet well suited for the distinguished buyer.
Bob Duffy
(Oct 29, 2021 at 4:09 PM)
We really enjoyed this Chardonnay. We had it with three different meals and it went nicely with all three. A great choice for a flexible white wine for any dish.