2018 Isabel Barbera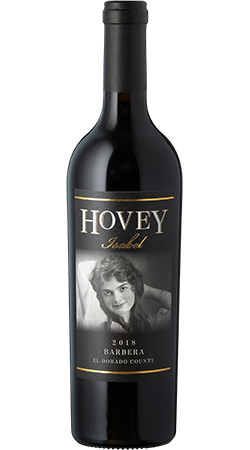 The 2018 Isabel Barbera is harvested from the Walker Vineyard in El Dorado County. The wine is loaded with the dried cherry flavors that make this variety a favorite in the Piedmont region of Italy and now the Sierra Foothills. Impactful from the very first sip with a long insistent finish, it partners beautifully with rich, bold dishes.
Wine Specs
Vineyard Designation
Walker Vineyard
Wine Profile
Tasting Notes
The first thing you will notice is the stunning color of this wine - dark, rich and beautiful. Once you open the bottle aromas of herbs and spices waft by, enticing you to pour your first glass. That first sip...ahhh. The wine is loaded with typical Barbera flavors of dried cherry and blackberry, and because this varietal naturally has less tannins and higher acidity, it feels juicy as you enjoy your second sip (or second glass). This wine grows and expands as each sip is better than the one before.
Vineyard Notes
The Walker Vineyard is located in El Dorado county. Lloyd Walker and his daughter Ann Johnson farm Barbera on a windy site off the Consumnes River canyon.  Huge daily temperature swings provide a long hang time which gives these grapes time to develop. The result is very large fruit with a higher skin to juice ratio. The quality of the Walker fruit is what makes this wine so special.
Food Pairing Notes
The acidity of this wine compliments richer dishes like Portobello Mushroom Stroganoff, or a Morrocan Tagine with Lamb and Ras El Hanout. Or you can try a rich Risotto with parmesan and proscuito.
Product Reviews