2018 Isabel Cabernet Sauvignon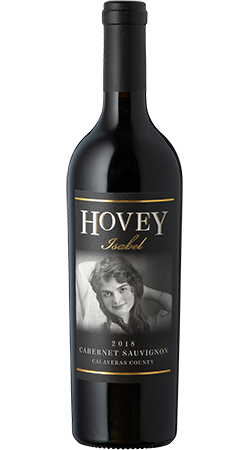 Cabernet Sauvignon is one of most well-known wine varietals, growing almost anywhere. Our Isabel Cabernet Sauvignon is produced exclusively with fruit from the Rasmussen Vineyard in Calaveras County. These vines have benefitted from the warm, dry weather and rocky soil of Calaveras County. Once harvested, the wine is aged for three years in new American oak barrels after being cold soaked before fermentation. The care taken with both the fruit and the winemaking is what sets our Cabernet Sauvignon apart.
Wine Specs
Varietal
Cabernet Sauvignon
Vineyard Designation
Rasmussen Vineyard
Wine Profile
Tasting Notes
Boy, do we love Cab! This is a rich and focused wine that, like many of us, gets better with age. The deep ruby color of this wine is unmistakable, as is the scent of black cherries when you take a deep breath. We love the hints of black currants and baking spices that nicely balance out the cassis and anise flavors. You might also notice a bit of toasty cedar which is thanks to the new American oak barrels. As you finish your first glass, notice the long dry finish supported by the higher tannins and lower acidity of this wine.
Vineyard Notes
The Isabel Cabernet is grown exclusively for Hovey Winery by Ginger and Clayton Rasmussen at their vineyard just east of Angels Camp, California. This boutique vineyard is tightly controlled and we can monitor the environment to get the highest yield.
Production Notes
This fruit is picked early in the morning so the juice stays nice and cool. After being destemmed and crushed, the fruit ferments for 15-20 days under controlled temperatures to slow down the fermentation. This wine is fermented until it is "bone dry" meaning no residual sugars remain. We age our Cabernet Sauvignon in a mix of American oak barrels to give it both flavor and texture (40% new and 60% old).
Winemaker Notes
The wine is cold soaked before fermentation and racked into American oak barrels, and is aged for least 24 months months prior to bottling. This wine ready to drink today and will age gracefully for three to five years.
Food Pairing Notes
Few wines can stand up to strong flavors of black pepper, but this Cabernet Sauvignon certainly can cut through. We recommend a pepper and parmesan crusted New York strip steak, or perhaps you want to try our recipe for Caprese steak (see our recipe page for details).
Product Reviews