2018 Tempranillo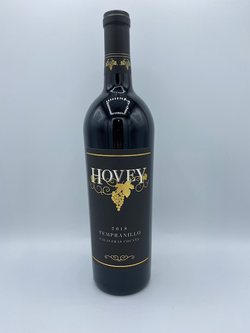 Tempranillo is a full-bodied wine with flavors of cherry and plum balanced with notes of cedar and clove giving it a lovely, sometimes spicy finish. Our Founder, Chuck Hovey, was one of the winemakers responsible for introducing Tempranillo to Calaveras County back in 1998. It is the foundation of our lineup and featured in our C2 Red Blend as well as our Founder's Blend.
Wine Specs
Vineyard Designation
Rolleri Vineyard
Bottling Date
August 2019
Wine Profile
Tasting Notes
Our 2018 vintage is a lovely surprise as you uncork the bottle - aromas of dark chocolate, cherries and coffee greet you like warm hug. Made in the classic Ribera del Duero style, with your first sip you might get some blueberry along with the chocolate. As you continue to enjoy your glass, enjoy the soft, light tannins. This wine is ready to drink now, and will age well in the bottle for at least five years.
Vineyard Notes
Rolleri Vineyard in Angels Camp is our source for Tempranillo. Chuck Hovey and Romi Rolleri worked together for years and we have a long established history with these vines. Give a wave as you pass the Rolleri vineyard as you drive up Murphys Grade Road.
Production Notes
This rich wine is open top fermented before being barreled on neutral oak for 18 months. Once bottled it is aged for another year.
Winemaker Notes
Chuck Hovey launched the Hovey brand with an amazing Gold Medal at the Tempranillo del Mundo competition for his 2009 Tempranillo. Only one of 4 US winemakers to take home the gold, and only 1 of 2 from California, this win put Chuck and his wine on the map, both locally and globally.
Food Pairing Notes
This earthy wine pairs well with Paella (of course), virtually anything Mexican, or grilled. Think grilled veggie tacos or polenta with grilled shrimp. See our Recipe page for ideas.
Product Reviews
Stephen Olson
(Jun 9, 2022 at 7:55 AM)
My wife and I came late to Tempranillo. It was suggested to us at a local wine bar and we loved it. My wife considers herself a beer drinker- but Tempranillo has changed her mind about wine, We really enjoy your Tempranillo!