2019 C2 White Blend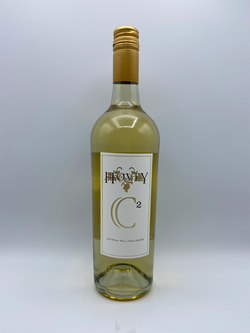 The C2 brand is our nod to Albert Michelson - the 1907 Noble award-winning physicist known for his work on measuring the speed of light (he is the "C2" in Einstein's equation E=MC2). That said, we like to keep our blend unique from year to year. Our 2019 vintage features Albarino (50%), Sauvignon Blanc (40%) and Chardonnay (10%). The result is a refreshing, dry white that is goes down easy on a hot summer afternoon.
Wine Specs
Bottling Date
March 28, 2019
Wine Profile
Tasting Notes
Pale yellow in color. On the nose you'll sense pineapple and mango. On the palate: pineapple with crisp green apple and lemon grass. A lingering finish with soft mouth feel.
Food Pairing Notes
The clean, crisp white pairs well with grilled salmon, butter soaked crab or camembert cheese.
Product Reviews
Barbara
(Aug 17, 2020 at 10:05 PM)
My friends and I love this white blend! Very crisp and refreshing!
Tammi Chastain
(Sep 23, 2020 at 7:01 PM)
We really enjoy this delicious white wine as one of our ho to summer selection. The fresh , light citrus taste makes it great with a summer BBQ.
Richard Gutierrez
(Dec 7, 2020 at 9:33 AM)
We really liked the C2 White. It reminds us a lot of the Orivieto Classico, a light white that is not too sweet.