2019 Cinsaut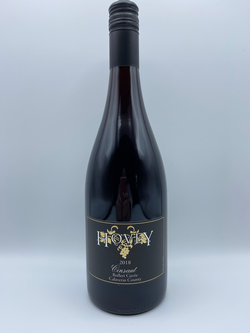 The 2019 Cinsault is a beautiful light-bodied red, great for summer sippin, with enough body to make it through the winter. Serve slightly chilled or at room temperature depending on the weather. Typically used in blending, we love this varietal on its own for its brightness and juicy nature. It's a very approachable red wine, and we've yet to meet someone who didn't enjoy it.
Wine Specs
Appellation
Sierra Foothills
Vineyard Designation
Rolleri Vineyards
Sugar
5 malic, 1.1 lactic, .97 VA
Wine Profile
Tasting Notes
This latest vintage starts with a light scent of roses and cranberries. As your swirl this beautiful wine around your glass, the color reminds us of gemstones. As you enjoy that first taste you might have thoughts of chocolate, or cherries. But then your mind thinks maybe that was black tea. Whatever it was it's delicious and you smile as you take another sip.
Vineyard Notes
The Rolleri Vineyard off of Murphys Grade Road in Angels Camp has provided our Cinsaut since its inception. The fruit is well tended and benefits from tons of Calaveras sunshine.
Production Notes
Once harvested and brought to the winery in Murphys, the fruit is crushed and open top fermented for a few weeks where it is punched down several times each day. This process helps fermentation and color development of the final wine. Once it is done fermenting, we press off the new wine and transfer to neutral oak barrels to allow the delicate flavor of the Cinsaut grape to come through.
Winemaker Notes
This is our 6th successive vintage of Cinsaut as a single varietal. Typically used as a blending grape, Chuck Hovey found it so enticing on its own back in 2013 that he decided to bottle it as such. It's a wine club favorite and a great wine to bring to a dinner party, as it's approachable and pairs well with almost anything.
Food Pairing Notes
In the winter we recommend pairing this with stewed or braised beef including Beef Bourguignon (there's a recipe on our Recipe page). We also love it in the summer with Caprese Salad, Grilled Swordfish or a wood-fired veggie pizza.
Product Reviews