2019 Isabel Founder's Blend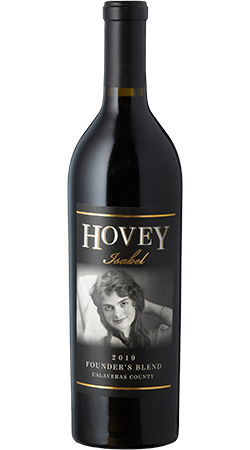 As you decant this lovely blend, take in the dark ruby color. This wine requires patience - the more time you give it the more you can appreciate its subtlety. The combination of two big reds, Cabernet Sauvignon and Tempranillo, has the potential to overpower, but in the right hands (thank you Scott!) it makes for a unique wine experience. Once decanted, pour a few glasses and pass it around. Sit and chat and watch this wine unfold over the course of an evening. The more time you spend with it, the more you will appreciate a depth that is not immediately apparent.
This medium to full bodied blend is still young which makes it a good candidate to lay down for 3-5 years. If you can't wait to give this new blend a try, we suggest decanting it at least ½ hour before serving.
Wine Specs
Appellation
Sierra Foothills
Vineyard Designation
Rasmussen and Cave City
Aging
This blend will only improve over time. Consider cellaring for 3-5 years.
Wine Profile
Tasting Notes
Take your time with this wine and be prepared to be impressed. Open the wine and decant for at least 30 minutes to let the wine breathe a bit before enjoying your first glass. Pour yourself, and a friend, a glass and toast to unique pairings. That first sip has some cassis and earthy elements from the Tempranillo, plus some black cherry and baking spices from the Cabernet Sauvignon. And as this blend opens up you may notice a hint of graphite and cedar from the American oak barrels.
Winemaker Notes
Tempranillo is a cornerstone of our lineup. Chuck Hovey had a vision for a Tempranillo-based blend he knew would work – equal parts Tempranillo and Cabernet Sauvignon. He wasn't able to complete this blend himself, but we were. True to our mission, we kept his dream alive, making the wine in his unique style. The result is a new, distinctive blend we think Chuck would be proud of.
Food Pairing Notes
Consider serving this wine with a well marbled steak or braised pork roast with peppercorn sauce. If you want something complex in flavor but simple to execute, try a hearty lamb stew. You can Instapot your way to a stunning meal with very little effort.
Product Reviews