2019 Syrah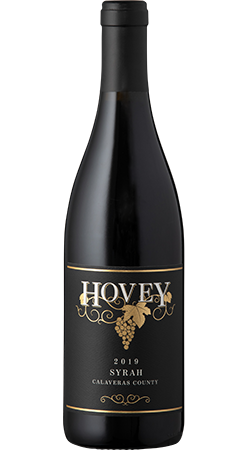 Bronze medal in the 2022 Sierra Foothills Wine Competition. This Syrah is a rich, full-bodied red wine with medium tannins and acidity. Fun Fact: Syrah is also called Shiraz by our Australian friends.
Wine Specs
Vineyard Designation
Cavern Vineyards
Wine Profile
Tasting Notes
This wine tastes purple - like ripe plums in summer. As soon as you pour the first glass, you can see this wine is something special. Medium purple and rich in color, you can see the dark tarry flavor before you taste it. As you take that first sip, the dried fruit really pops. Next come some more umami notes of leather or something rich and musty. As you sip, you might notice a slightly more intense, concentrated flavor of green peppercorn followed by hints of something spicy like cardamom. Its medium finish has nice tannins and subtle acidity. This wine reveals layers of complexity with each sip.
Vineyard Notes
The fruit is grown outside of San Andreas in Calaveras County, in a boutique vineyard on a Karst limestone formation that gave rise to the extraordinary caverns in the Cave City area. This bold red historically comes from the Rhone Valley of France. The limestone terroir of Calaveras County is what gives this varietal a slight gamey character that points to the Northern Rhone heritage of this variety. 
Winemaker Notes
The color of this wine is opaquely purple. This full-bodied red wine doesn't overwhelm the nose - much like wasabi, you feel it rather than smell it. It has just the right amount of tannins and acidity to give this wine a big punch of flavor.
Food Pairing Notes
This meaty wine needs meaty meals to really show you what it's got. Try an herb-crusted rack of lamb, or something spicy like Tandoori Chicken or Asian five-spice pork to intensify the savory notes.
Product Reviews
Tony
(Aug 16, 2022 at 8:05 AM)
Great wine. Thanks.