2019 Tempranillo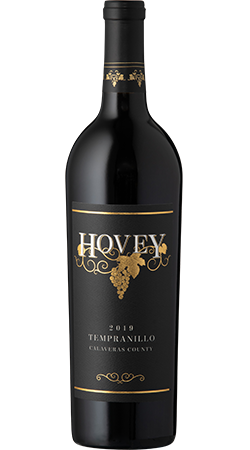 Our Founder, Chuck Hovey, was one of the winemakers responsible for introducing Tempranillo to Calaveras County back in the 1980s. The Hovey 2009 vintage earned a Gold Medal in the 2012 Tempranillo del Mundo competition, putting Chuck and Hovey Winery on the global stage. We continue to make wine that Chuck would be proud of.
Wine Specs
Vineyard Designation
Rolleri Vineyard
Wine Profile
Tasting Notes
Our 2019 vintage is a lovely surprise as you uncork the bottle - aromas of dark chocolate, cherries and coffee greet you like warm hug. With your first sip you might notice some blueberry along with chocolate. With each subsequent sip, the flavors intensify, and the medium tannins and acidity lift everything up. As you continue to enjoy your glass, you almost feel transported to the plains of Spain. Pour yourself another glass and sit back, relax and enjoy.
Vineyard Notes
Rolleri Vineyard in Angels Camp is our source for Tempranillo. Chuck Hovey and Romi Rolleri worked together for years and we have a long established history with these vines. Give a wave as you pass the Rolleri vineyard as you drive up Murphys Grade Road.
Production Notes
Made in the classic Ribera del Duero style, this rich wine is open top fermented before being barreled on neutral oak for 18 months. Once bottled it is aged for another year.
Winemaker Notes
Chuck Hovey launched the Hovey brand with an amazing Gold Medal at the Tempranillo del Mundo competition for his 2009 Tempranillo. Only one of 4 US winemakers to take home the gold, and only 1 of 2 from California, this win put Chuck and his wine on the map, both locally and globally.
Food Pairing Notes
This earthy wine pairs well with Paella (of course), virtually anything Mexican, or grilled rack of lamb if you want to get fancy. On a weekday, try grilled veggie tacos, take-out pizza or a baked pasta with spicy tomato sauce.
Product Reviews
Laura Baughman
(Aug 22, 2022 at 9:56 AM)
We served Paella to our guests ~ the recommended wine was Tempernillo! Of course we went straight to Hovey, knowing we would not be disappointed , it was a huge hit! Thank you for upholding Chuck's vision, it's truly the winery we go to when serving our guests.
Glenn Michel
(Apr 2, 2023 at 2:50 PM)
Hovey's current Tempranillo ranks with the best.
Stephen Olson
(Aug 14, 2023 at 8:47 AM)
I really like this wine. It has a smooth bright taste that is perfect for our summer meals.