2020 Grenache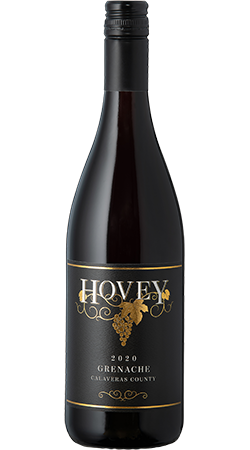 The 2020 Grenache is our first release of this varietal. It earned a Silver medal at the 2022 Sierra Foothills Wine Competition. New to the Hovey line-up, it is a lighter-bodied red that we consider the "pinot noir" of Calaveras County. Enjoy this wine slightly chilled in the summer, or at room temperature anytime.
Wine Specs
Appellation
Sierra Foothills
Vineyard Designation
Dalton Vineyard
Wine Profile
Tasting Notes
The crystal clear ruby color of this wine is striking. Hold it up to the light and you'll see what we mean. The delicate nose and subtle aromas lead you to expect something very light. Your first sip is a delightful surprise - crisp and tart with a lovely depth of flavor. The next sip reminds us of candied fruit, and the sweet tart flavors of cranberry-raspberry juice. The raspberry notes of a Southern Rhone Grenache are definitely in there. As you continue to enjoy your glass, you'll notice more earthy flavors like cassis and dried herbs, plus the dusty silky tannins of French oak. Serving this Grenache slightly chilled brings out more of the cherry and berry flavors, while at room temperature you'll experience more of the savory earthiness and depth of flavor.
Vineyard Notes
The Dalton Vineyard is in a canyon between Angels Camp, Murphys and San Andreas. This canyon winds along San Domingo creek which was a very active gold mining site in the 1850's. The work put into the vineyards by Jim Dalton, Chuck Hovey and Bardon Stevenot show in the high-quality fruit these vines have been producing for decades. Jim's daughter, Deirdre, continues the family tradition.
Winemaker Notes
The 2020 Grenache was harvested at night when the temperatures are low and delivered to the crusher at 7:00 am. The grapes were crushed and de-stemmed then allowed to cold settle for 1 day before inoculation. The ferment was allowed to get up to 85F and punched down twice daily for 10 days. When the ferment was complete the wine was transferred to neutral French oak barrels, chosen so the oak didn't overpower the fruit.
Food Pairing Notes
Pair the Grenache with dishes featuring cumin or allspice. A Mexican-inspired pot roast would work well as would a citrus and herb roast chicken, or a vegetarian korma curry.
Production
Once the ferment was complete, the wine was held in neutral French Oak for 16 months and has rested in the bottle for an additional 12 months. 215 cases produced.
Product Reviews
Emily Orr
(Mar 6, 2023 at 5:08 PM)
Hovey's Grenache is a wonderful wine to fill the gap that once was occupied by their Cinsaut. It is light and crisp with balanced acidity that delights the palate. It is smooth and easy to drink, but is also full of complex and delicate flavors. It was paired deliciously with Raclette at the Wine club Release Party, but is also a wonderful wine to enjoy in its own.
Stephen Olson
(Mar 31, 2023 at 8:10 AM)
This is a fun wine. I think of it like a Beaujolais Nouveau or some of the lightweight, drinkable, Spanish wines. Turn on the music and have a glass.