2020 Rosato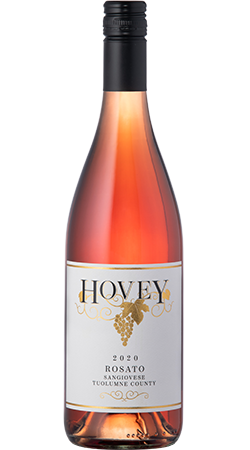 The next vintage of our award-winning Rosé. This Italian style rosato is produced from the Gianelli Vineyards' Sangiovese Grosso. This fruit-forward wine is crisp and clean with a pleasantly dry finish, and its bright copper red color is a joy to look at.
Wine Specs
Appellation
Sierra Foothills
Vineyard Designation
Gianelli Vineyard
Wine Profile
Tasting Notes
Crack open a bottle of this bright wine and you can't help but smile. The color of this rose just makes us happy. The aroma is subtle with hints of rose and fresh strawberries. Your smile grows as you take that first sip; your brain is ready for sweet, but what you get is fruity and refreshingly dry. Raspberries and grapefruit says your brain - maybe it's right this time. Served chilled in the summer with frozen raspberries to help keep it cool.
Vineyard Notes
Direct from the rolling hills outside of Jamestown, CA, this fruit comes to us from the Gianelli Vineyards. The longstanding relationship between Hovey and Gianelli started when Chuck Hovey was the winemaker for Gianelli. They offered him use of their facility to begin production of his own wine. And the rest is history.
Production Notes
The fruit is sole sourced and never fails to impress. The grapes are pressed and left in contact with the skins for just a few hours, resulting in the beautiful copper red color. The wine is left to age in oak barrels for ~12months before being bottled.
Food Pairing Notes
We think of our Rosato as the perfect addition to a picnic of summer salads like Watermelon Panzanella, or a Greek Salad with Feta cheese. On the flip side, we also LOVE this wine with Thanksgiving Dinner. The bright acidity cuts through the richness of a traditional turkey dinner. Plus it's so pretty on a holiday dinner table.
Product Reviews