2020 Viognier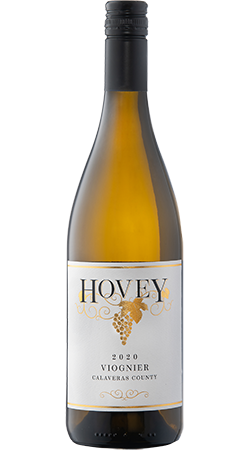 Our 2020 vintage continues the award-winning tradition of Hovey Viognier. This varietal is becoming more and more popular in California, for good reason - it's delicious! Like other full-bodied white wines, our Viognier is ready to be enjoyed today, and will stay in your cellar for another 2+ years (not that we can ever keep it around that long).
Wine Specs
Appellation
Sierra Foothills
Vineyard Designation
Dalton Vineyard
Wine Profile
Tasting Notes
The color of our Viognier is what first strikes you - a beautiful honey straw color that reminds us of the golden hills of Calaveras County. The aromas take us back to the spring gardens of our childhood with peaches, nectarine and orange blossoms. That first sip is full of citrus - like pink grapefruit or tangerines. Then comes a hint of white pepper and a long sultry finish you don't often get with a white wine. This is an all-season white wine that is ready to drink now.
Vineyard Notes
This beautiful vineyard was planted James Dalton in 2000. It is situated on a hillside setting in San Domingo canyon outside of Angels Camp.
Production Notes
This varietal is cold fermented at 55F. The wine is aged for up to a year in neutral oak before being bottled right here in Calaveras County about 1/2 mile from our Tasting Room.
Winemaker Notes
Our Viognier is barrel aged in a mix of new and neutral oak to highlight the floral and tropical nature of the fruit while also adding body and texture to the wine.
Food Pairing Notes
The fruitiness of this wine makes it a favorite when craving some Pad Thai or grilled tuna with tarragon. The aromatic herbs are a nice counterpoint to the richness of the wine. The full-bodied nature of this wine is also a great match with blue cheese, a lovey pate and fresh bread.
Product Reviews
Pamela
(Nov 25, 2022 at 12:26 PM)
I love this Viognier. We're always so excited when we open a bottle.
Glenn Michel
(Apr 2, 2023 at 3:04 PM)
This is my favorite Viognier. It's also an outstanding value at club prices.