2021 Chardonnay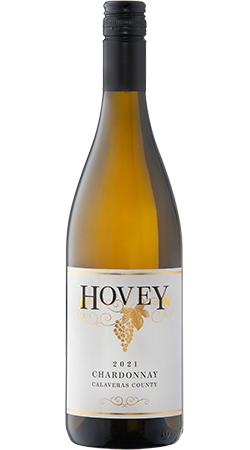 Our 2021 vintage continues a long history of Chuck Hovey's classic style. This wine is barreled on neutral oak with just enough new oak to give it just a hint of oak you expect with a Chardonnay, while not overpowering the fruit. This wine is more like a Sonoma style of Chardonnay than the Napa style of this varietal.
Wine Specs
Appellation
Sierra Foothills
Vineyard Designation
Chatom Vineyards
Wine Profile
Tasting Notes
The first thing you notice when you pour a glass of the Chardonnay is its sparkle -- the way it captures the light. The light straw color is brilliant as you swirl the wine in your glass. As you breathe in, there is a hint of honeysuckle and apricot, and some lovely melon. That first sip makes you think of ripe pears and apples, and on the finish there's a perfect balance of toasty vanilla which comes from the oak barrels. The barreling also provides structure and nicely balances the natural acidity of the fruit.  The silky mouthfeel continues with soft subtle oak and a long lingering finish.
Vineyard Notes
100% of this fruit come from Chatom Vineyards off Esmerelda Road in Calaveras County. The Wente chardonnay clone comes from the Burgundy region of France and is the source of 80% of American Chardonnay. That said, the character and nature of chardonnay varies greatly from vineyard to vineyard, and winemaker to winemaker. Thanks to the folks at Chatom, our Chardonnay is consistently fantastic.
Production Notes
Aged in mostly neutral oak barrels with 25% of the vintage aged in Le Grand French Oak barrels to give the wine a lovely subtle mouthfeel and hints of vanilla.
Winemaker Notes
Chuck Hovey's style was to "let the fruit do its thing." We hold true to Chuck's vision, and that's what sets our Chardonnay apart. This wine is very much what Chardonnay grapes want to taste like.
Food Pairing Notes
Our 2021 Chardonnay is well suited to more classic pairings like fresh oysters, lobster, or any seafood dipped in butter. A grilled salmon or roast chicken would be more than enjoyable, as would a lovely picnic of french bread and brie cheese.
Product Reviews
Ralph
(Feb 27, 2023 at 9:50 AM)
My wife loves this wine.
Glenn Michel
(Apr 2, 2023 at 3:00 PM)
I have yet to find chard in this price range that beat's Hovey's. I look forward to it in each club shipment.
Kathy LeBleu
(May 29, 2023 at 9:18 AM)
Hovey Chardonnay is my favorite Chardonnay, I enjoy a glass on a relaxing afternoon, with dinner, and love to bring a bottle as a gift when invited to a friends house.
Tom Pettey
(Jun 24, 2023 at 1:13 PM)
This is a superb Chardonnay. We ordered it at a local restaurant paired with poultry and seafood dishes. We enjoyed it so much that it prompted a visit to your store the next day to take a few bottles home.
Kathryn Eustis
(Dec 4, 2023 at 4:03 PM)
Delicious!