2019 Isabel Sparkling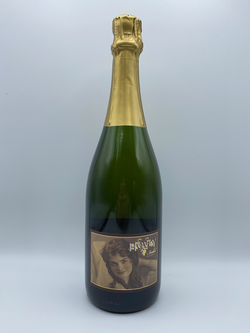 Hovey Isabel Sparkling wine is made from a blend of Pinot Noir, Chardonnay and Pinot Meunier grapes that are fermented in the bottle, referred to as Methode Champenoise. This classic blend of grapes makes a sparkling wine with lots of fine textured bubbles.
Wine Profile
Tasting Notes
Our Sparkling wine is very approachable with citrus, pear and floral aromas with a hint of yeast. With the first sip you'll notice the light citrus notes and a soft texture that comes with the fine bubbles. The finish of this wine is well-balanced with a note of grapefruit.
Vineyard Notes
This fruit comes to us from the North Coast with it's cooler nights and wetter climate, this is one of the few varietals we source from outside of Calaveras County.
Production Notes
Hovey Sparkling Wine is fermented using the Méthode Champenoise which refers to a second fermentation in the bottle which gives the wine it unique bubbly nature.
Food Pairing Notes
Anything creamy goes well with our Sparkling wine - think Shortbread cookies, triple-cream brie cheese, scallops or custard tarts.
Product Reviews
Ciera Clemens Barnes
(Jan 8, 2020 at 1:50 PM)
WOW, I am not a wine drinker and when Chuck introduced this to me, I was hooked! It is by far my absolute favorite wine. Not to mention his beautiful grandmother on the label! Beautiful wine. Perfect amount of bubbly and it truly does pair well is anything.
Lisa
(Apr 20, 2020 at 8:12 AM)
This is one of my top 3 sparklings...sadly the two bottles I've purchased will be going to my daughters best friends as they celebrate their 21st birthdays during the shelter in place, good thing I have my own stash...will need a trip up to the tasting room with them soon!