2017 Isabel Cabernet Sauvignon and Lasagna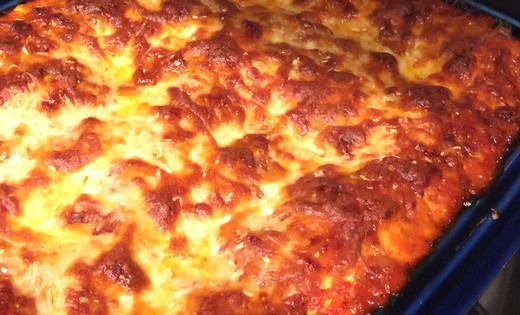 Recipe Date:
September 16, 2021
Measurements:
Imperial (US)
A big red like this needs some cheesy goodness to go along with its tannins. Together these are an amazing combination.
Ingredients
1 lb Italian sausage (sweet or hot depending on your preference)
3/4 lb ground beef (80/20)
1/2 cup minced onion
2 cloves garlic
1 (28oz) can of crushed tomatoes
2 (6 oz) cans of tomato paste
2 (6.5 oz) cans of tomato sauce
1/2 cup water or chicken stock
1 tbsp white sugar (optional)
1/2 tsp dried Basil
1/2 tsp fennel seeds
1 tsp Italian seasoning
1 1/2 tsps salt (to taste)
1/4 tsp ground black pepper
1 tsp crushed red pepper flakes (optional)
4 tbsps chopped fresh parsley
12 No-cook Lasagna noodles
16 ozs ricotta cheese
1 egg
3/4 lb shredded mozarella cheese
3/4 cup grated parmesan cheese
Directions
In a large pot, cook sausage, ground beef, onion, and garlic over medium heat until well browned. e careful not to burn the garlic. Stir in the tomato paste and cook for 2 minutes. Then add the crushed tomatoes, tomato sauce, and water. Add sugar, basil, fennel seeds, Italian seasoning, salt, pepper, and half of the parsley. Reduce heat to low and simmer, covered, for about 1 1/2 hours, stirring occasionally.
In a mixing bowl, combine ricotta cheese with egg, remaining parsley, and 1/2 teaspoon salt.
Preheat oven to 375 degrees F (190 degrees C).
Put it all together. Start with a few spoonfuls of the sauce on the bottom of a 9x13 inch baking dish. Arrange noodles over sauce and top with one-third of the ricotta cheese mixture. Top with a third of mozzarella. Add another layer of noodles, sauce and cheese mixture, and sprinkle with Parmesan. Repeat layers again (noodles, sauce, cheese). The final layer should be any remaining mozarella and Parmesan.
Cover with foil. Helpful Hint: fold the foil slightly down the middle to make sure the foil doesn't stick to the cheese
Bake in preheated oven for 25 minutes. Remove foil, and bake an additional 25 minutes until it is nicely browned and the cheese is bubbling. Cool for 15 minutes before serving.
Recipe adapted from AllRecipes.com