2018 C2 Red Blend with Turkish Meatballs (Kofta)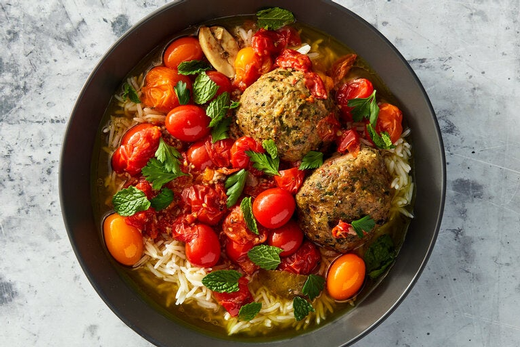 Recipe Date:
September 6, 2022
Measurements:
Imperial (US)
Our C2 Red Blend is always evolving - just like these meatballs. You can change up the herbs you use; use lamb instead of beef; switch out the tumeric for cumin. The possibilities are endless.
Ingredients
1 lime
2 gloves crushed garlic (more if you like)
1/2 cup chopped dill, mint, parsley or a combination
3 tbsps plain greek yogurt
1 tsp ground turmeric or another warm spice, like paprika, cumin, coriander, allspice or a combination
1 lb ground lamb, beef, turkey or a combination
salt and pepper
Directions
Use a vegetable peeler to peel the rind off the lime in wide strips. Add the rind to a 6- to 8-quart slow cooker, along with the garlic and ¼ cup water. (Reserve the lime.)
In a large bowl, stir together the herbs, yogurt, spices, 2 teaspoons salt and 1 teaspoon black pepper. Add the meat and use your hands to combine. Form the meat into balls and add to the slow cooker in a single layer. If they don't fit in one layer, add a few tomatoes to buffer the meatballs from one another, then add another layer of meatballs. Add the cherry tomatoes, season with salt and pepper, then cover and cook on low until the meatballs are cooked through, 3 to 4 hours.
Transfer the meatballs to plates, then remove and discard the lime peel. Burst most of the tomatoes by smashing them on the side of the slow cooker with a spoon. Squeeze the reserved lime into the slow cooker, then season to taste with salt, pepper and sugar. (The sugar helps compensate for too-tart tomatoes.) Spoon the tomatoes and broth on top of the meatballs, along with more fresh herbs.
​Adapted from NYT Cooking.