2019 Viognier with Lobster Mac & Cheese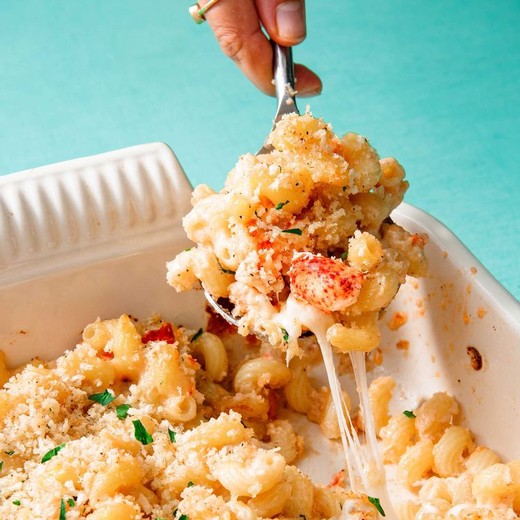 Recipe Date:
January 27, 2021
Measurements:
Imperial (US)
Cheesy, lobstery goodness is what this recipe is all about. It's simple to put together and let bake while you sit by the fire enjoying a glass of Hovey Viognier.
Ingredients
1 lb cavatappi pasta (or similar)
1/4 cup butter
1/4 cup flour
2 1/2 cups whole milk
pinch of nutmeg
kosher sale
fresh ground pepper
1 1/2 cups shredded white cheddar
1 cup shredded Fontina
3/4 cup grated parmesan, divided
1 lb lobster (fresh if available, but canned works just as well)
1/2 cup Panko breadcrumbs
1 tbsp extra-virgin olive oil
1/4 cup freshly chopped parsley (optional, but a lovely touch)
Directions
Preheat oven to 375°. In a large pot of salted boiling water, cook cavatappi until al dente. Drain and set aside.

In a large saucepan over medium heat, melt butter. Sprinkle over flour and cook until slightly golden, 2-3 minutes. Pour in milk and whisk until combined. Season with nutmeg if using, salt, and pepper. Let simmer until thickened slightly, about 2 minutes.

Remove pan from heat and stir in cheddar, Fontina, and 1/2 cup Parmesan and whisk until smooth. Fold in pasta and lobster and transfer into a 9"-x-13" baking dish.

In a medium bowl, combine Panko, the remaining Parmesan, and oil. Season with salt and pepper and sprinkle over pasta. Bake until bubbly and golden, 20-25 minutes.

Serve with roasted veggies (broccoli, carrots and onions) or a spinach salad with Champagne dressing.