2018 Zinfandel with Teriyaki Skirt Steak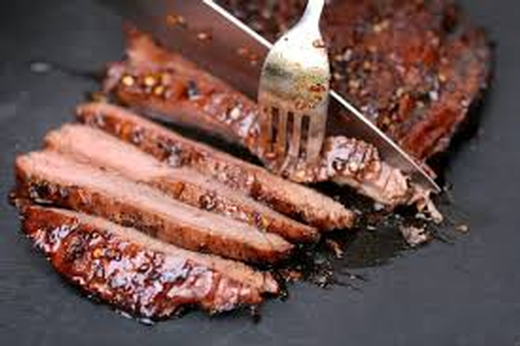 Recipe Date:
September 6, 2022
Measurements:
Imperial (US)
Sometimes it's the simple things in life that can bring us much pleasure...like the sweet and tangy marinade alongside our luscious Zinfandel.
Ingredients
1/3 cup pineapple juice
1/3 cup low sodium soy sauce
1/4 cup sliced green onions
1 tbsp minced fresh ginger
1 tbsp honey
garlic (as much as you like)
1 1/2 lbs flank steak
Directions
Combine first 6 ingredients in a large zip-top plastic bag; add steak to bag. Seal and marinate in refrigerator 3 hours, turning once.
Prepare grill. Heat to medium high.
Remove steak from bag, reserving marinade. Place steak on grill rack coated with cooking spray (or brushed with oil); grill 20 minutes or until desired degree of doneness, turning and basting frequently with the reserved marinade. Let stand 10 minutes before cutting diagonally across the grain into thin slices.
​Serving suggestions: Serve with white rice to catch all the delicious juices.