2019 Cinsaut & Classic Pizza Margherita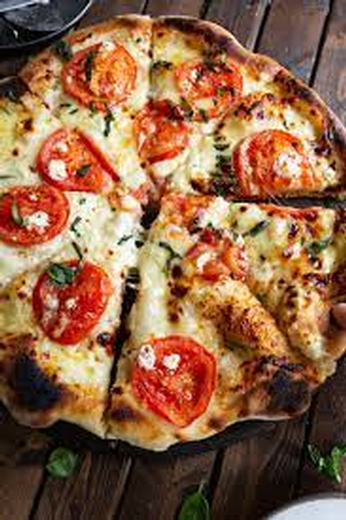 Recipe Date:
September 6, 2022
Measurements:
Imperial (US)
The crispness of our Cinsaut is a lovely combination with the sweet tomatoes and herbal notes from the fresh basil. Then there's the crusty dough and melty cheese...Enjoy!
Ingredients
1 pkg active dry yeast
1 tbsp white sugar
2 1/2 cups warm water (110 degrees F)
2 tbsps extra virgin olive oil
1 tbsp salt
6 cups flour (bread flour is preferred, but all-purpose is fine)
1/2 cup tomato sauce
1 sliced roma tomato
3/4 cup shredded mozzarella cheese
1 cup fresh mozzarella cheese (sliced)
1/2 cup fresh basil (chopped)
Directions
In a large mixing bowl (or the bowl of a stand mixer is using), dissolve yeast and sugar in the warm water. Let sit in a warm place until creamy (about 10 minutes)
Stir in the olive oil, salt, and 4 cups of the flour. Once combined, mix in the remaining flour 1/2 cup at a time, stirring well to combine. When to dough has come together, turn it onto a floured surface and knead well for about 8 minutes until it is smooth and elastic. **NOTE: It is easier to use a stand mixer if available, but not required.
Once the dough is smooth and elastic, lightly oil a large bowl, place to dough into the bowl and turn to coat with oil. Cover with a damp cloth and let rise in a warm place until doubled in size (about 1 hour).
Pre-heat the oven to 425 degrees F. If using a pizza stone, place it in the oven.
Once risen, turn the dough out onto a lightly floured surface and gently deflate the dough. Divide the dough into three equal pieces and form into rounds. Cover the rounds and let them rest for 10-15 minutes until slightly puffed up. NOTE: This recipes makes 3 pizzas depending on size. Once divided, you can portion the dough and use what you need and freeze the rest.
Use your hands, or rolling pin, to roll the dough into the desired shape. Srinkle lightly with flour as necessary.
On a sheet pan or cookie sheet, sprinkle 1 tbsp corn meal. Place the dough on the pan.
Gently spread tomato sauce around the dough. Sprinkle with shredded mozzarella and fresh mozzarella.
Place in the oven and bake for 20 minutes or until gloden brown.
**NOTE: If using a pizza stone (recommended), assemble pizza on a cookie sheet or pizza piel that you can use to transfer the pizza to the stone that is in the oven.
Remove the pizza and sprinkle with fresh chopped basil and a drizzle of olive oil (optional).
Recipe adapted from AllRecipes.com