2019 Tempranillo and Classic Paella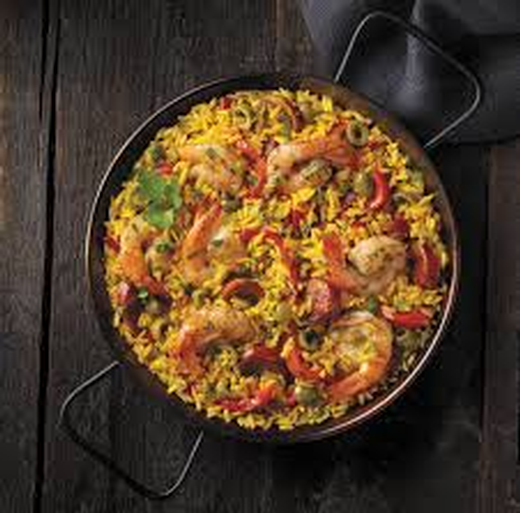 Recipe Date:
September 6, 2022
Measurements:
Imperial (US)
The earthiness of the Tempranillo and the rich umami of the rice is more than delicious. Vegetarian, pescatarian, or full on carnivore, work equally well with this recipe.
Ingredients
2 lbs boneless skinless chicken thighs
2 tbsps extra virgin olive oil
3 cloves crushed garlic
1 tsp crushed red pepper flakes
2 cups short grained rice
1 pinch saffron
1 large bay leaf
1 quart chicken stock
2 medium lemons
1 medium yellow onion, diced
1 medium red bell pepper, diced
1 lb shrimp, deveined
1 lb chorizo sausage, casing removed and crumbled
Directions
Mix olive oil, paprika, oregano, salt, and pepper for marinade in a glass bowl.
Add chicken and stir to coat.
Heat 2 tablespoons olive oil in a large skillet or paella pan over medium heat. Stir in garlic and pepper flakes, then add chicken and cook until browned on all sides.
Stir in rice. Cook and stir until rice is coated with oil, about 3 minutes.
Add saffron threads, bay leaf, parsley, chicken stock, and lemon zest. Stir until well combined and bring to a boil. Reduce heat to medium-low, cover, and simmer for 20 minutes.
Add bell pepper and sausage; cook and stir, breaking sausage up with a spatula, for 5 minutes.
Add shrimp; cook and stir until shrimp are bright pink on the outside and the meat is opaque, about 2 minutes.
Remove from the heat and conver with a dish towel and let the Paella rest for 10 minutes.
Serve from the pan.