2020 Viognier with Crab Cakes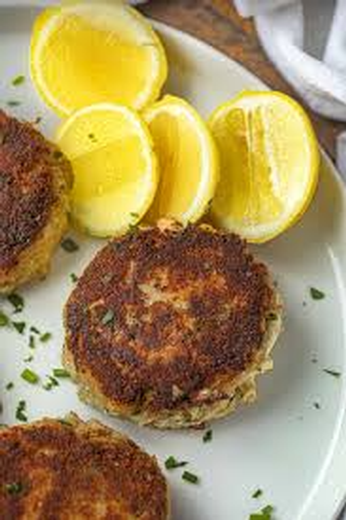 Recipe Date:
March 8, 2023
Measurements:
Imperial (US)
These delicious, delicate and deceptively simple crab cakes come together quickly and are sure to impress.
Ingredients
1/2 cup bread crumbs (Italian seasoned is best)
2 tbsps mayonnaise
tsp Old Bay seasoning
2 tsps fresh parsley, finely chopped
1/2 tsp yellow mustard
1 egg, beaten
1/2 lemon (zest and juice)
1/2 lb lump crab meat (fresh or canned)
Directions
1. Mix bread, mayonnaise, Old Bay, parsley, mustard, lemon juice, and egg in large bowl until well blended. Gently stir in crabmeat.
2. Line a sheet tray with parchment or aluminium foil. Oil the tray making sure to get oil under each cake. Portion into 2 oz cakes (or 1 large spoonful). Pat lightly into a round slightly flattened cake. and place on oiled tray.
3. Bake at 350 for 3-5 minutes. Flip and bake another 3-5 minutes until golden brown and crispy on both sides.
4. Serve warm or at room temp. Garnish with lemon zest and a squeeze of lemon juice.
NOTE: This will make 8 appetizer portions or 4 entree portions.