2021 C2 White Blend with Lemon Butter and Herb Pasta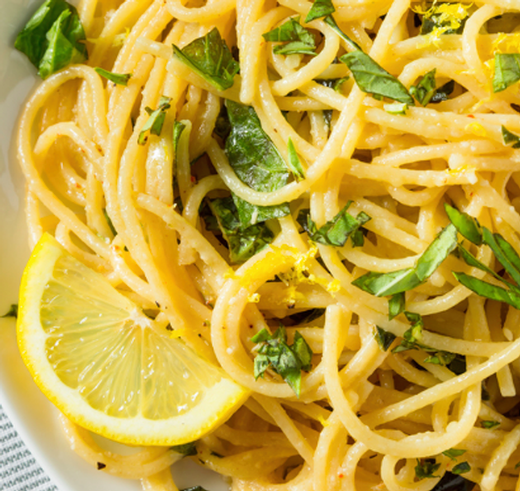 Recipe Date:
May 22, 2020
Measurements:
Imperial (US)
A light butter garlic sauce is infused with fresh lemon and herbs and served over your favorite pasta.
Ingredients
2 tbsps Extra Virgin Olive Oil
2 tbsps Butter
2 tbsps minced garlic (about 4-5 cloves, more or less depending on your taste)
1 cup sliced onions
1 cup sliced cherry tomatoes
1/2 cup lemon juice (or juice of roughly 1 lemon)
1 tbsp lemon zest (from the lemon before you squeeze it)
1/4 tsp red pepper flakes (optional)
3 cups hot water (more as needed)
1/2 cup white wine
Salt & Pepper to taste
1 tbsp each of chives, parsley and tarragon (any herb will do)
1 lb spaghetti (or other thin pasta)
1/4 cup shredded parmesan cheese
Directions
In a large saute pan, heat the olive oil and butter on medium heat. Add the onions and saute until translucent.
Add the garlic and saute until it begins to break down but not brown.
Add the sliced tomatoes, white wine, lemon juice and lemon zest, red pepper flakes (if using).
Bring the sauce to a boil.
Add spaghetti (or other thin noodle) and stir to coat with the sauce.
Add enough of the hot water to cover the pasta. Stir and continue to boil.
As the liquid is absorbed by the pasta continue to add water until the pasta is al dente (or done to your liking). It may be more than 3 cups depending on the pasta.
Once the pasta is done, sprinkle with fresh herbs and parmesan cheese.
Pair with Hovey C2 White blend and enjoy!