2017 Isabel Cabernet Sauvignon with Caprese Steak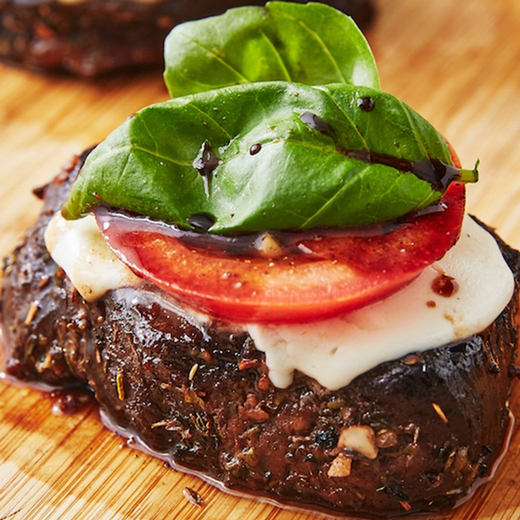 Recipe Date:
September 6, 2022
Measurements:
Imperial (US)
This meal is sure to impress, and still leaves you time to enjoy the evening since it goes together in just a few minutes. This recipe features classic flavors that depend on quality fresh ingredients. The simple preparation lets the ingredients sing.
Ingredients
3/4 cup balsamic vinegar
3 cloves garlic, minced
2 tbsps honey
2 tbsps extra-virgin olive oil
1 tbsp dried thyme
1 tbsp dried oregano
4 (6-oz.) filet mignon (or sirloin steaks)
2 beefsteak tomatoes, sliced
kosher salt
4 slices fresh mozzarella cheese
Fresh basil leaves, for serving
Directions
In a small bowl, whisk together balsamic vinegar, garlic, honey, olive oil, dried thyme, and dried oregano.

Pour over steak and let marinate at least 20 minutes (longer is better if you have the time).

Season sliced tomatoes with salt and pepper.

Heat grill to high. Grill steak 4 to 5 minutes per side for medium-rare, then top with mozzarella and tomatoes and cover grill until cheese is melty, 2 minutes.

Top with basil before serving. Serve on a bed of simple pasta drizzled with olive oil (or butter).
​Recipe inspired by Delish.com