2018 Zinfandel and Carne Asada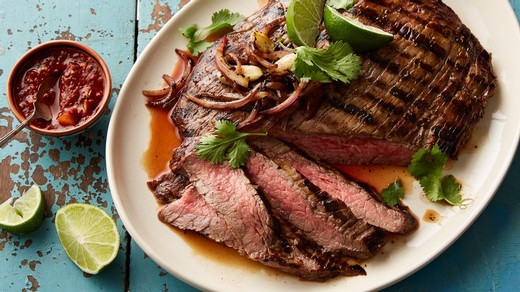 Recipe Date:
August 13, 2020
Measurements:
Imperial (US)
Carne Asada is quickly grilled over high heat, and then thinly sliced. You can marinate the flank steak in any kind of citrus juice and garnish with whatever you like (onions, cilantro, radishes, cheese, crema...whatever). It's perfect for tacos, burritos, tostados, nachos...whatever!
Ingredients
1/2 cup orange juicce
1/4 cup lime juice
1/4 cup Tequila
4 gloves of garlic, thinly sliced
1/2 medium red onions, thinly sliced
1 tsp kosher salt
1 tsp freshly ground black pepper
1 tbsp Ancho chile powder
2 lbs flank steak
Directions
Make the marinade: combine orange juice, lime juice, tequila, garlic, onions, salt and pepper, ancho chile. Whisk to combine.
Pour over flank steak. Cover and refrigerate for 2-3 hours (more is better, but 30 minutes is fine if you're in a rush).
Heat the grill. Remove the flank steak from the grill and let rest at room temp for about 45 mins.
Place the flank steak on hot grill. Grill on each side for 3-4 minutes for medium, 5-6 minutes for medium well. Turn only once, don't move the meat around on the grill.
Remove flank steak from grill, cover and let rest for 5 minutes.
Thinly slice across the grain.
Serving suggestions:
Tacos: place steak on corn/flour tortillas, garnish with cotija cheese, diced white onions, cilantro and lime juice
Tostadas: place steak on corn tostadas, garnish with shredded lettuce, cheddar cheese, thinly sliced radishes and pick de gallo
Burritos: place steak on a flour tortilla add refried beans, rice, diced tomato, onion and guacamole; wrap and enjoy!