2018 Chardonnay with Charcuterie Platter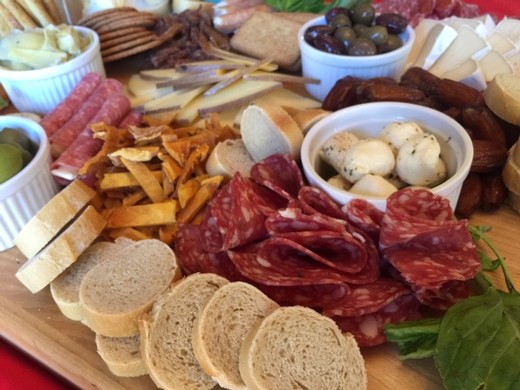 Recipe Date:
April 8, 2020
Measurements:
Imperial (US)
Charcuterie boards are the darlings of Instagram these days. You can 't have a party without one. But here's the thing - they aren't just for fancy events. These boards are the perfect at-home appetizer, and can make a wonderful lunch or dinner.
Ingredients
3 Cheeses - hard, soft, flavored or marinated
2 Crackers and/or bread
3 Spreads - sweet (like jam or honey) and savory (like pesto or hummus)
3 Cured meats - salami, proscuitto, bacon
3 Veggies - grilled asparagus, marinated mushrooms, crudite (carrots, celery, etc.)
2 Nuts - can be mixed, spicy and/or sweet
1 Olives
Directions
Survey what you have available.
Select at least 4 of the 7 ingredients. If you don't have any meats, then use veggies, and vice versa.
Find a great board or platter. It can be as simple as your kitchen cutting board, or as fancy as Grandma's silver tray.
Collect all your ingredients in front of you along with the platter/board. This is important so you don't forget anything.
Select small bowls for the spreads, nuts, olives and such.
Place the bowls around the board - one on each corner, or clumped together in the middle, or however you think feels right.
Then set the cheese. Place one cheese next to each of the bowls. If using whole blocks of cheese, make sure to include a small knife.
Around the cheese, place the meats and/or veggies.
Finally, use the crackers and bread to fill up any open space.
Be creative! You can add fresh herbs, small pieces of chocolate, anything that might add something unexpected to the board and to your palate.