2020 Rosato with Chicken, Cumin and Cinnamon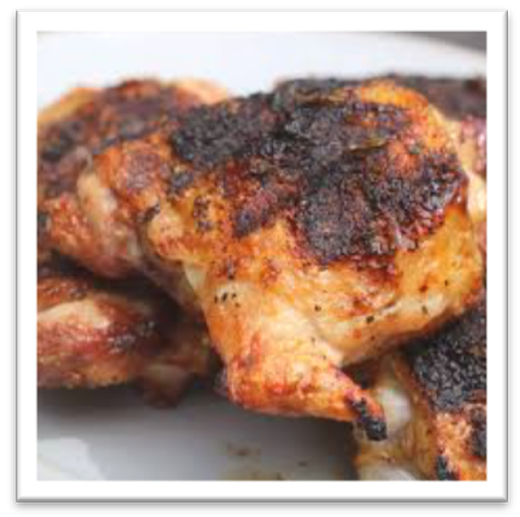 Recipe Date:
September 6, 2022
Measurements:
Imperial (US)
Who doesn't like a little rose? Who doesn't like a wonderful grilled chicken? This pairing is the perfect combination of both.
Ingredients
1 Contents of Spice Packet
1 tbsp Brown sugar
1 tbsp Extra Virgin Olive Oil
4 Chicken thighs
Directions
In a small bowl, mix the spices with brown sugar and mix well.
NOTE: If you don't have the spice packet, here's the recipe: 1 tsp Cumin, 2 tsp Cinnamon, ¼ tsp Pasilla Chili powder (or whatever you have on hand), 1 ½ tsp salt (less if desired).
Drizzle the chicken thighs with EVOO.
Rub generously with the spice mixture.
Let sit at room temp for about 30 mins.
Grill on medium high 10-15 minutes per side. Alternatively, cook in a 350 degree oven for about 1 hour. Chicken should be done to an internal temp of 165 degrees and it will be perfectly juicy and tender.
Let the chicken rest for about 5 minutes before serving.
Crack open your Hovey 2020 Rosato and enjoy!