Isabel Sparkling with Fresh Scones, Cream & Jam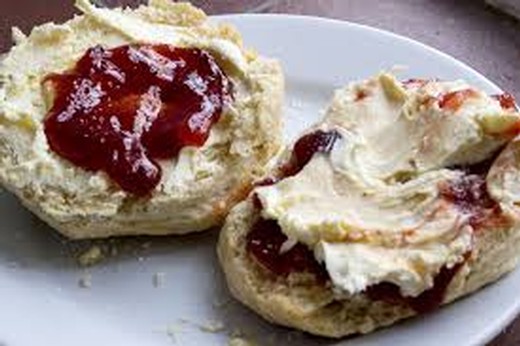 Recipe Date:
September 6, 2022
Measurements:
Imperial (US)
Make any morning special. With just a little planning, you can surprise your sweetheart with a lovely breakfast in bed. The buttery goodness of these scones is just wonderful with the fine bubbles of our Isabel Sparkling Wine.
Ingredients
2 cups all-purpose flour
1/3 cup sugar
1 tsp baking powder
1/4 tsp baking soda
1/2 tsp salt (less if you like)
8 tbsps unsalted butter, frozen
1/2 cup sour cream
1 large egg, slightly beaten
Directions
The night before, place 1 stick of unsalted butter in the freezer so it's ready to go in the morning. These simple scones come together in just a few minutes so they are perfect for a "breakfast in bed" surprise.
Adjust the oven rack to the lower-middle position and preheat to 350 Degrees.
In a medium bowl combine flour, sugar, baking powder, baking soda and salt - whisk it together to blend well.
In a separate small bowl, whisk the egg and sour crream until smooth.
Using a box grater, grate the frozen butter (using the large holes of the grater) directly into the bowl with flour mixture. The faster you do this the better as you want the butter to stay frozen. Using your fingers, work the butter into the flour until it feels like coarse ground corn meal.
Pour the sour cream mixture into the flour/butter misture. Use a fork to mix until large clumps form. Now, use your lightly-floured hands and press the dough against the side of the bowl to form a loose ball. The dough will feel sticky in places, and it may feel like there is not enough liquid, but as you press it will start to come together. Don't overwork the dough - it's fine if there are still loose bits.
Use a non-stick cookie sheet. You can line it with a piece of parchment paper or silicon mat if you like.
Tip the bowl directly onto the cookie sheet. Pat the dough together so it forms a circle about 7-8" across by 3/4" thick. Use a sharp knife to cut the circle into 6-8 triangles.
Separate the scones so there is about 1" between them on the baking sheet. Sprinkle each with a dusting of sugar (flavored sugar, or Demarara sugar is a nice touch).
Bake until golden, about 30 minutes. PRO TIP: Use a cooking thermometer and check the internal temp - 212 degrees should be perfect. Cool for about 5 minutes.
Serving suggestion: Serve warm with "clotted cream" (whipped cream that you whip for longer than you normally would) and your favorite jam. And of course a bottle of our Isable Sparkling wine!