2017 Petite Sirah and Slow-Cooker Boeuf Bourguignon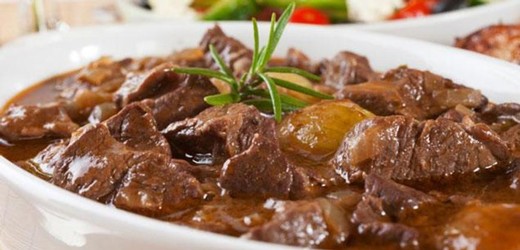 Recipe Date:
November 20, 2015
Measurements:
Imperial (US)
Serves 6
Ingredients
5 lbs beef chuck roast, round roast, or other similar cut, cut into 2-inch cubes
Kosher salt and pepper to taste
2 cups Hovey Zinfandel or Tempranillo, divided (see Recipe Notes)
2 medium yellow onions, thinly sliced
3 medium carrots, sliced
1 large parsnip, sliced
3 whole stalks celery, diced
4 cloves garlic, minced
1 tbsp tomato paste
4 sprigs fresh thyme
1 bay leaf
1 cup chicken or beef broth, plus more if necessary
1 lb white button mushrooms, whole or sliced
Directions
Pat the beef cubes dry and sprinkle them generously with kosher salt and pepper. Warm a stainless steel or cast iron skillet over medium-high heat and add oil. Add a single layer of beef cubes to the pan to sear; sear the meat in batches and transfer to slow cooker when nicely browned. Between batches, deglaze the pan with 1/4 cup of the wine, scraping brown bits from pan, and pour mixture into slow cooker. Add 1 tablespoon vegetable oil to the pan. Continue to sear the meat in batches until finished. Do not overcrowd pan.

When all the meat is seared, add another tablespoon of oil to the pan and reduce the heat to medium. Season and cook the onions, carrots and celery until soft and browned, 6 to 8 minutes. Add the garlic and tomato paste, and cook until fragrant.
Transfer the vegetable mixture to the slow cooker. Tuck in sprigs of thyme and the bay leaf. Pour the stock and the remaining wine over the beef and vegetables — the liquid should come about 3/4 of the way to the surface of the ingredients.
Cover the slow cooker and cook on low for 6 to 8 hours. When finished, the beef should fall apart easily with a fork.
Garnish with Italian parsley and serve over jasmine or basmati rice. A crusty baguette is great for sopping up the sauce.