Turkey Brine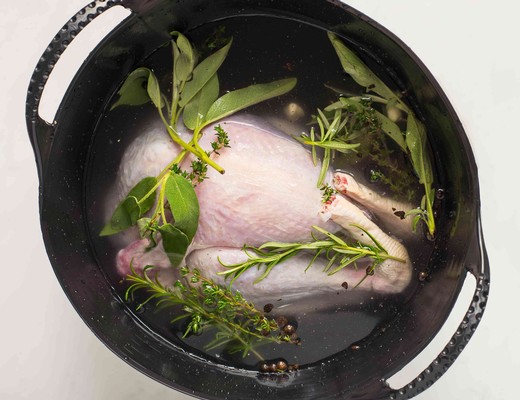 Recipe Date:
November 4, 2021
Measurements:
Imperial (US)
The acidity of the apple cider adds flavor and helps tenderize the meat which is so juicy and delicious. The herbs add a brightness that is often missing from Thanksgiving dinners.
Ingredients
1 gallon apple cider
1 cup sea salt
1 tbsp rosemary
1 tsp each of sage, thyme and tarragon (or your favorite herbs)
1 gallon iced water
Directions
In a large stock pot, combine the apple cider, sea salt, and herbs. Bring to a boil, stirring frequently to dissolve the salt. Remove from heat, and let cool to room temperature (very important to cool completely so you don't heat up the turkey).
Get a kitchen sized garbage bag, and place into a medium sized cooler (make sure it is large enough to fit your specific turkey). This makes for easier clean up. When the broth mixture is cool, pour it into the bag inside the cooler. Stir in the ice water.
Place the clean turkey into the bag (make sure to remove the innards). Ensure that the inside cavity is full of brine. Tie the bag and cover with ice. Leave the turkey set overnight.
Remove the turkey and discard the brine.
Cook the turkey as desired reserving the drippings for gravy. Keep in mind that brined turkeys cook 20 to 30 minutes faster so watch the temperature gauge.