Grilled Chicken "Cabobs" with Cabernet Sauce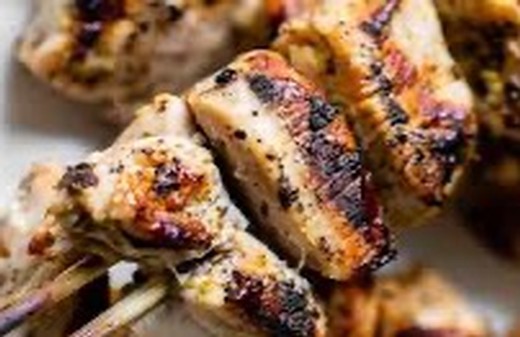 Recipe Date:
April 3, 2023
Measurements:
Imperial (US)
It's amazing how much flavor you can pack into these bit-sized "Cabobs". The Cabernet and it's rich tannins infuse the chicken and the herbs play nicely with the black current and anise notes of the wine.
Ingredients
16 Bamboo skewers
1 1/2 lbs Boneless, skinless chicken thighs, cut into bite-sized chunks
2 cups Cabernet Sauvignon (divided)
2 tbsps Extra Virgin Olive Oil
1 tbsp dried oregano
1 tbsp dried basil
1 tsp sea salt
1 tsp black pepper
1 tbsp Butter
Directions
Get Ready
Get all your equipment ready (small mixing bowl, cutting board, knife, baking dish or sheet tray, small sauce pan, wooden skewers). If cooking on a BBQ or over charcoal, soak skewers for 2 hours in water.
Gather and portion out all the ingredients.
Get Cooking
In a small bowl combine the marinade ingredients. Mix to combine.
Dice chicken thighs into thumb-sized chunks. Place the chicken and marinade into the ziptop bag ensuring that all pieces are covered in marinade. Refrigerate for at least 20 minutes, or overnight if you have time.
When ready to cook, remove the chicken from the ziptop bag and discard marinade. Thread the chicken onto skewers and place in baking dish or sheet tray.
Heat grill to medium high. Cook chicken until tender and starting to char (internal temperature should be 165F).
Make the "Cabob" Sauce:

Pour 1 cup of Cabernet Sauvignon into a small sauce pan. Bring to a low boil and reduce by half (you want about 1/2 cup remaining).
Remove the pan from the heat. Add 1 Tbsp butter, and stir until melted. Cover to keep warm.
Serve the Cabobs on a tray and drizzle with the warm sauce. Garnish with fresh herbs, green onions, or fried shallots.